The old site is gone, but now we have apps!
We are appreciative and sorry you're not finding what you searched for, but check this out! In 2013 we built a website for AllTeamz and our goal was to provide parents and youth athletes the ability to find sports teams in their area, quickly and easily. We accomplished our goal for quite some time and we did it at our own expense only making money when you all clicked on one of the minimum ads we ran. Apps have become far more useful to the general public when searching for teams, social media has entire communities created to fill the niche, and a database of 20,000 leagues/teams requires constant updating. In truth, it just wasn't being done by the owners of the profiles. In the end, our biggest competition in providing these services was always going to be word of mouth from other parents and athletes. It's with an extremely heavy heart that we have shut down the old site and instead focused on the apps we create. We want to assist all youth athletes in finding opportunities to compete at the collegiate level and so far, so good. Head to our home page to check them out!
Did we mention we learned some things?
When we were validating our idea for the business we polled over 1200 parents across Facebook and various forums. The insight from those surveys completed in late 2012 helped us determine the need for our site and basically became our set of requirements to build the service. Here is the full breakdown of our small survey.
Who participates in organized sports?
| | |
| --- | --- |
| Youth Sport Statistics (Ages 5-18) | Data |
| Number of kids who play organized sports each year | 35 Million |
| Percent of kids who play sports outside of school | 60% |
| Percent of boys who play organized sports | 66% |
| Percent of girls who play organized sports | 52% |
Natural Progression of a Youth Athlete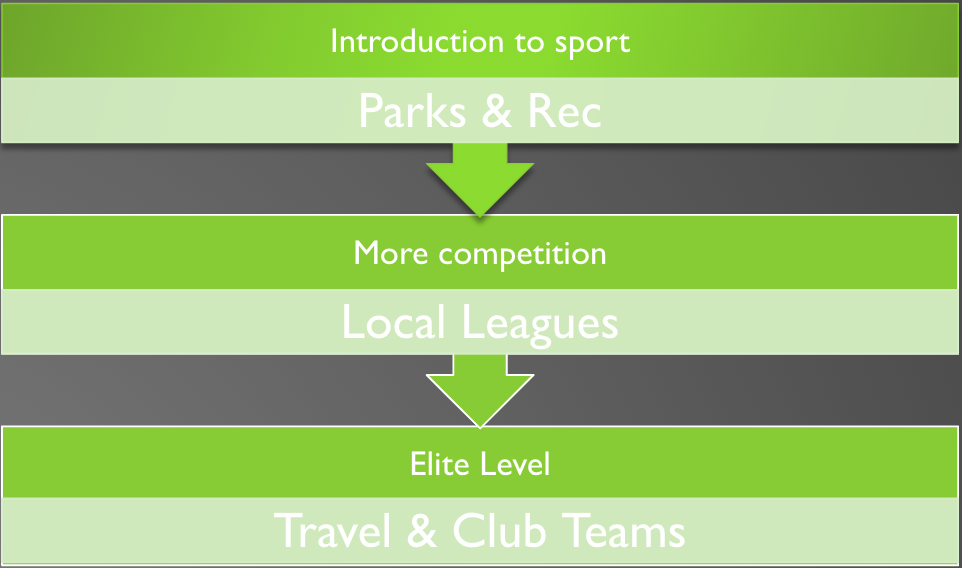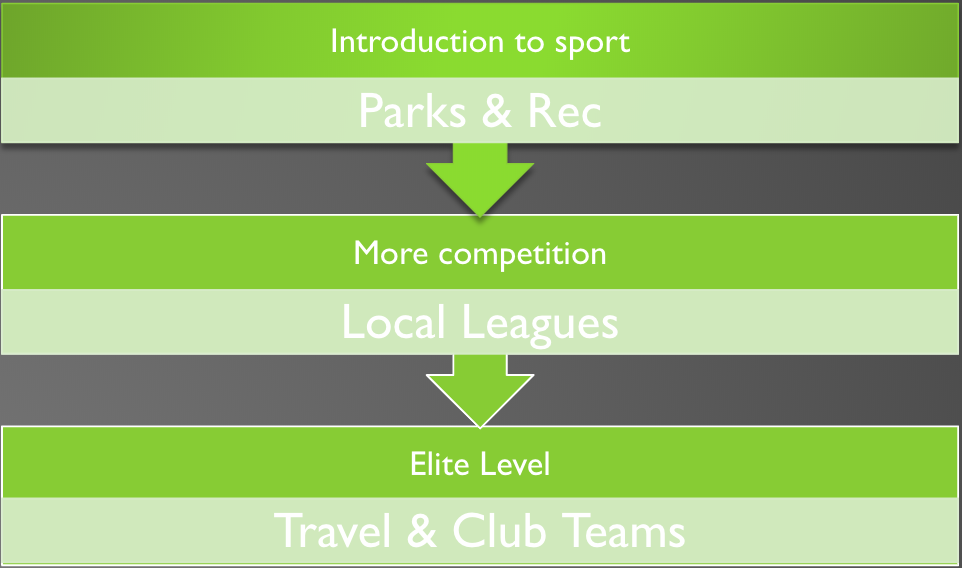 Information in the world of youth sports is fragmented at best and non-existent at worst. It's largely word of mouth or so sport-specific as to be of little use to most parents.
What did AllTeamz do?
The site was divided into two key areas.
The interface was simple to use, a few clicks and users are viewing relevant profiles.
League and team profiles were easily built using the proprietary ALLTeamz plain-language interview system.
Leagues and teams were prompted regularly to keep their profiles current. Inactive profiles are automatically removed from view to ensure the information provided to users is up to date.
Where do we go now?
Well if you are an athlete looking for the opportunity to play softball or baseball at the collegiate level we ask that you check out our apps, Softball Bound and Baseball Bound and then tell us what you think via review or the email at info@allteamz.com. If you think what we did before on the web would be helpful as an app please let us know too! It's not gone forever, we only want to make sure we give you the best experience possible and the need would match our willingness to move forward.
Thank all of you who helped us to get this far and for supporting us along the way.
Your partner in the sports journey, Ryan and Scott.